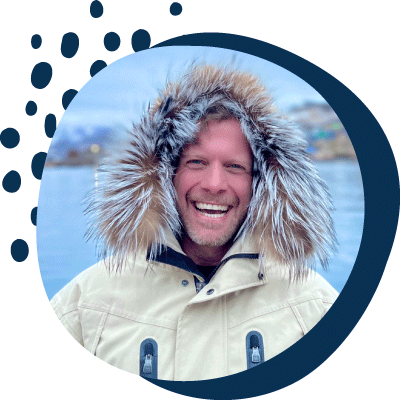 This trip is designed by Kevin Tison
Kevin Tison, a native of Louisiana has been a resident of Southern California for almost 23 years, making his home in Long Beach, CA with his partner, Dollar, and their dog Bronte. Trained as a classical pianist and conductor, he stays busy in his "tuxedo life" on some of the most iconic stages around the world. Off stage, Kevin is an avid traveler, adventurer, and thrill seeker — always ready to climb a mountain, jump from an airplane (which he also flies), scuba dive some of the world's most beautiful reefs, or compete in endurance sports such as marathons (on all seven continents) and Ironman triathlons and Spartan obstacle races. Discovery is a significant passion of Kevin's life as he has travelled to over 46 countries, from Antarctica to Greenland. Having been to Iceland on nine trips, it remains one of his favorite places - watching the island's diverse landscapes come alive in such spectacular displays. Bag always packed and hiking shoes by the door, Kevin is always ready for the next adventure and loves sharing his passion of discovery with others.
Accommodations at a four-star hotels.

All travel throughout Iceland.

Premier cultural excursions, including many waterfalls, hikes, and nature baths.

An on-call customer experience team to handle all the details and ensure your every need is met.
Take in the sunset at Sky Lagoon. Relax and recover from jetlag with the indulgent 7 step ritual. You'll soak in the hot bath, refresh with a cold mist, exfoliate with a cleansng scrub, wrap yourself in steam, and take in the colorful scenery.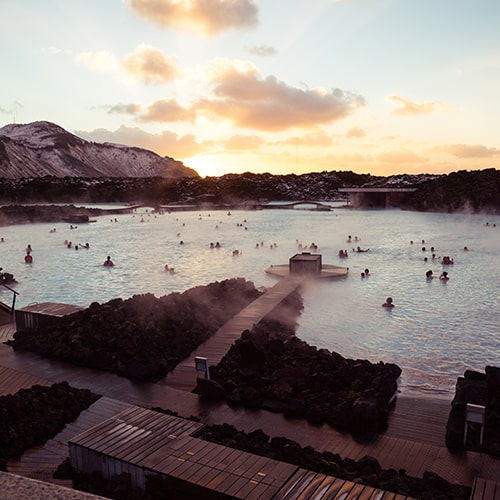 Enjoy the enchanting drive out of Akureyri to Goðafoss, a beautiful roadside, horse-shoe shaped waterfall. Embark on a short hike around the falls for many stunning photo ops and views.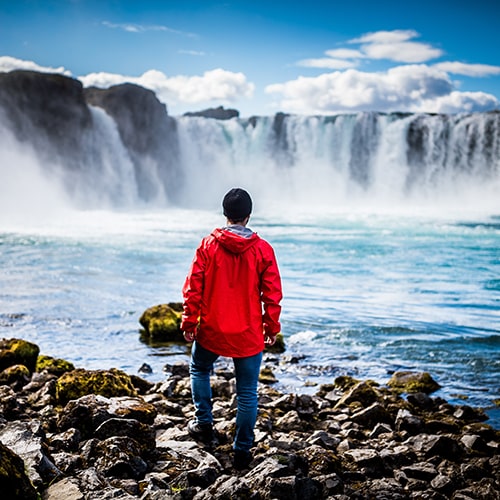 Drive through the amazing East Fjords down to the South Coast, visiting Iceland's famous Jökulsárlón, a glacial lagoon, bordering Vatnajökull National Park (Ice Lagoon) and Diamond Beach. You'll explore the southern coast, taking opportunities to stop and photograph the massive glacier and tongues, along with the fields of moss covered lava rock! Kevin knows a few hidden gems for photo ops along the route!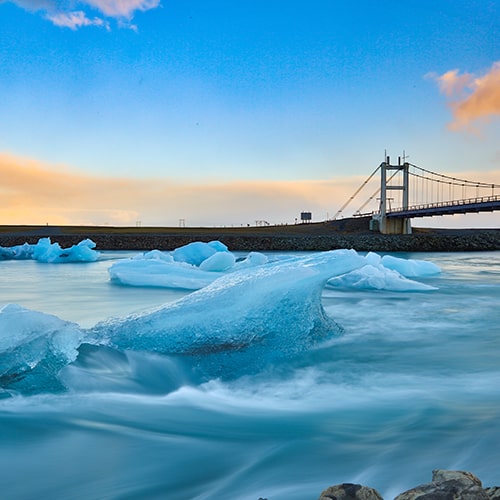 Today, you'll jaunt around Þingvellir (Thingvellir) National Park in the rift valley where the tectonic plates of North America and EuroAsia split. This is an amazing opportunity to go snorkeling in the freezing (don't worry, you'll have a full body suit on for warmth) and possibly purest water in the world!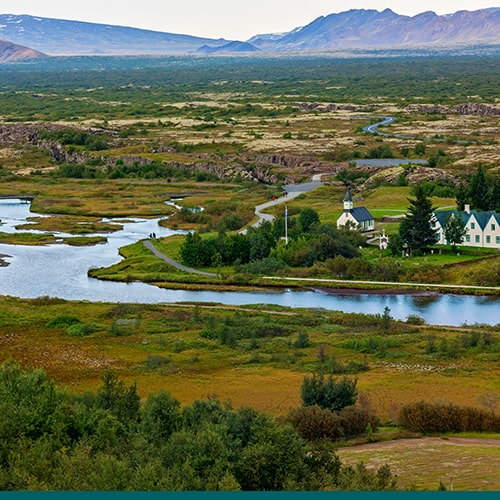 Check out our other expertly curated travel programs and let the team at Learn by Adventure plan your next getaway.
Transportation to and from Keflavik International Airport

Transportation to all planned events and venues during the trip

Hotel accommodations at all locations

Admission to all scheduled events and tours
Airfare and transportation to and from Iceland

Select meals
To learn more about this incredible trip and receive a welcome basket on the first night of any Learn by Adventure trip you book with WorldStrides (a $50 value), complete our form.